Paula Must Try Harder: Bikeability
So far, my cycling progression – much like my cycling itself – has been slow, wobbly and completely aimless. I've pedalled, steered and braked in all the wrong order, injuring both my pride and my limbs along the way. Somehow though, one thing has characterised the entire journey since first I touched a bike last September – for the brief seconds when I manage to pull it all together and make the wheels roll in the right direction long enough to fool gravity, I really love riding a bike!

But, when the only adult-cycling teacher around leaves for pastures new – and outwith my range – where does a balance-free grown-up go to learn the basic bike-riding skills without resorting to tracking down one of the Goonies kids?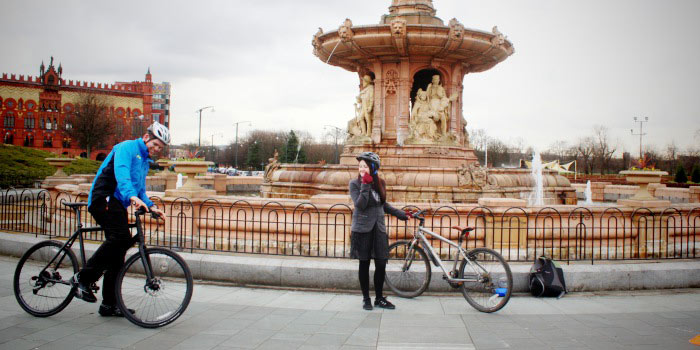 Luckily for me (and Sean Astin), the Bikeability Scotland scheme exists. Run by Cycling Scotland, the three-tiered programme teaches children (yes, I know I'm not quite their target pupil) to ride bikes safely and effectively in the modern-day environment. For those of us who understood the Goonies reference, it's cycling proficiency but with a less learn-y name. And I wanted to try it.
When I nervously approached Cycling Scotland, wearing a hopeful smile and my 'I Heart Bikes' t-shirt, I really didn't expect the wonderful reaction I received. Before I had polished my handlebars, I was welcomed into their office, presented with some colourful information booklets and invited to become one of the first adult Bikeability Scotland participants, with a place in the fantastic Pedal for Scotland event on offer if I thought I could manage a 47-mile cycle trek by September. I even caught a glimpse of the shiny badge I could earn on successful completion of the Bikeability training. I, of course, agreed and, since I've not quite mastered steering yet, there was no turning back.
Glasgow 2014: James McCallum goes for gold
TEAM Scotland cyclist James McCallum has his sights set on coming out on top at the 2014 Commonwealth Games.

The 33-year-old, who is hoping to qualify for what would be his fourth Games, hinted that he may bow out after the Glasgow spectacle, and is determined to do so on the back of what would be his "greatest success."

Speaking at the launch of Lead 2014, a scheme that arms young people throughout the country with increased leadership skills and galvanises their interest in what is set to be the biggest showpiece of its kind, he said: "Fingers crossed I get there, that is what I am focused on first and foremost. I am looking at possibly ending my career after the competition so I really do hope to go out with a bang by winning a gold medal. Even clinching silver or a bronze would be fantastic.

"It has been a long time since something like this has happened here. Obviously the Olympics were just last year and I think that has really captured the imagination of the public and called on them to carry on that momentum to Glasgow 2014. It is going to be pretty special.

"If I do have the opportunity to complete in my home city, it truly will be the icing on the cake. To come from Glasgow, I live just along the road from where the velodrome is, and have the road race being there is absolutely a dream come true. I never thought this would happen in my time and I feel pretty privileged that I may get to live that dream."

McCallum, whose disciplines are track and road, has tasted Commonwealth glory before by taking third spot in the Scratch race in 2006. It was this achievement that launched him into the spotlight.
Paula Must Try Harder: Weightlifting
Weightlifting isn't the type of sport I imagined to be easy. I've never put down my book of an evening, kicked off my slippers and thought, I know, I'll take up Olympic weightlifting for the night. It looks tough and physically punishing – even the professionals sometimes seem like they'd rather be standing barefoot on a plug than straining beneath the burden of those massive hunks of metal.

I didn't, however, imagine weightlifting to be so, well, finicky.


On my first visit to Kilmarnock Amateur Weightlifting Club on Saturday, I watched in awe as what were truly athletes – men and women alike – pushed weights up and over their bodies as though gravity deferred to their superior physiques. From the safety of a corner of the well-equipped gym, I winced and flinched, jumping each time the juddering weights reconnected with the floor, hoping with all my puny might that the ceiling of the hall below was made of sterner stuff than my nerves.

Yes, I was my usual edgy, awkward mess of a bystander – and would have been a lot worse had the club's members and coach, Charlie Hamilton, not been so receptive and welcoming, even though I was clearly lumbering through what should have been their private training space. Throughout a workout that would have made Bruce Banner wince, they found the energy to chat to and encourage this self-confessed weakling in their midst.


And then it was my turn. Three of the club's high-achieving female weightlifters took the time – and considerable patience – required to show me the basics. But 'basics' makes it sound easy, and it's not, even with an empty bar and expert coach on hand. The basics are technical and detailed, and difficult for me to remember all at once. If my hands were in the right position, my knees were too close together; when I checked my footing, my balance would falter. Bringing it all together at the same time was beyond me, and that was without the added stress of weights bearing on my mind and my joints.

But I tried and (hopefully) improved and, pleased with what I had learned, left the world of weightlifting after two hours with a small sense of achievement and some practice exercises to try using household objects before next week's lesson.

It seems that in weightlifting, as in life, everything has its place – and mine, for the moment, is beneath a wobbling broom shaft in the comfort of my living room.
Keep up with Paula's progress at www.paulamusttryharder.co.uk

Why Paula must try harder
This is me: Paula.
Unfit and slow-paced by choice; clumsy buffoon by design. I've just never found a sport that fits with my own personal skill-base – tumbling, tripping and tea-making.
But then, some things change, right?
If you're not much of an athlete and have always wondered how you would fare in the competitive world of sport, say hello to your canary down the mine. Over the next twenty-four months I intend to run, jump and fall (a lot) as I try desperately to pick up skills that I probably should have learned a long time ago.
So, stick around and follow this bumbling idiot – but not too closely or you might fall over the disaster I leave in my wake – as I attempt to sample each of the seventeen Commonwealth sports before the Games reach my Glaswegian doorstep in 2014.